66 minutes
So it happens again.
A year after his first attack
, the brave Damien Demento sends
another salvo
to WrestleCrap. For what exactly, I don't know, so I'll let this picture explain it better (with acknowledgments to The Sam09):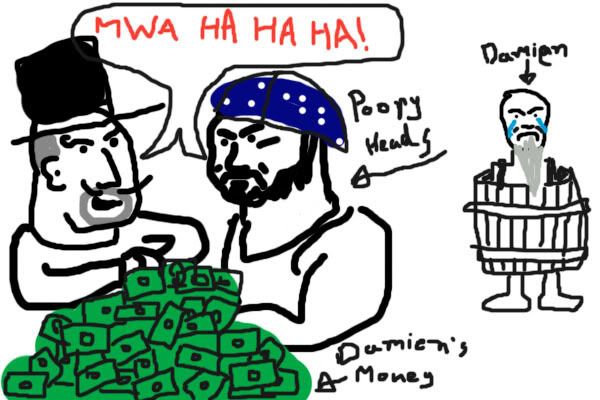 Our Co-Hosses the Real Deal Fruitcake and the Fat Man commentate on the video. In return
Blade challenges "Dependo" to some Front Yard Boxing
. Perhaps he can also get the help of Peter Gazer with the Andre of that really weird Andre the Giant movie (:06) Could Demento also be on the show as the next TNA correspondent? (:11) One can only hope. Speaking of TNA the response to Mike Check has been "overwhelming". (:14) For once they're right.
No TRIP to the Grocery this week, as instead we have a visit to the WrestleCrap FanFiction Theatre. (:17) As Vivaldi's Spring and Pachebel's Canon in D play Blade does an English Jim Ross as Lord Alfred as Sir Alec Heineken...You know Alec right? The legendary thespian who was Obi-Too Kenobi of
Start Wars
, Prince FreeCell of
Lawrence of Aruba
and Colonel Nickelson of
The Bridge on the River Why
? This week has some Shawn Michaels and Triple H slash fiction. He leaves with applause. I'm expecting him to be the next TNA Correspondent now.
Obscure Wrestling News: (:24) Joanie Laurer has a new sex tape. Speaking of returns... RD bets on the Colts and Lions again such that the loser has to appear with her in the film (preferably with Nicole Bass too, no doubt.) (:27) Blade: "I do like Gerber baby wienies." Don...Don Mason and he would steal them for fun. Todd Bridges is now an indie wrestler. (:30) A Crapper is attending that show. Van Hammer unretires against a 'Champ Champagne', which gives the latter an excuse to make references to
The Wrestler.
(:32)
Question of the Week (:36) from Ed "Don't call me Han" Salo (3), is about Cheatum Spinning the Wheel (Making the Deal) at birthday parties. Blade talks about old shows blending and repeating stories, but if this site can't help him then what will? As if in response RD re-talks about his attempt to "
Let's make a Real Deal
".
RD uses a radio to tune in Mike Check. (:43) In his ramblings to 'RT and Brad' he talks about a Nostradamus Norris, his already outdated
MySpace page
, nicknaming WWCR as The Whacker, and his time as Bob Ali (working alongside Cassius Weave) on the Bob & Weave Morning Drive in Ithaca NY's
WTKO
"The Knockout". Oh, and some random TNA woman named Taylor Wild. Mike plays
Wildfire
for her, RD's old theme song.
Current Wrestling News. (:55) Ricky Steamboat, walking corpse. Some more Mickey Rourke discussion. Could HE be their next TNA correspondent? Hulk Hogan is saying that
he
was originally going to be Randy "The Ram" Robinson. Unfortunately he didn't say that Linda Hogan was supposed to be in
Milk.
Seventeen Syllables:
So very scary.
He's Damien Demento.
Live from a closet.