44 minutes
The Co-Fruitcakes talk about Transformers, Tiny Tim, and Tony Lister for some reason.
RD has completed the bulk of his re-write of The Death of WCW. Vince Russo is now on LinkedIn. Blade has no idea what LinkedIn is. I try not to be surprised. (:07)
:10 RD reads a 'press release' from Sunny about being a...lady of the sheets in the guise of a bed-based photo op. I'm sure this will end well. RD then asks for volunteers to take photos with her. I'm sure this will also end well. Blade acts as her pimp in his Jeff Foxworthy impression. This...does not end well.
Blade wants to post more on his Twitter. I'm sure that will happen by the next Vernal Equinox. (:19)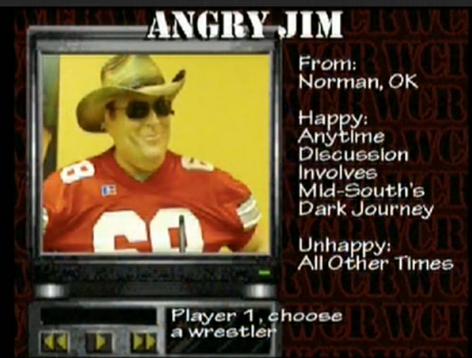 Jim at the WCR Roast, hiding his
face in shame with...his own face.
Jim Ross is retiring to "focus on his personal business endeavors" and NOT because he doesn't want to be parodied any more by Vince or have things shoved up his rectum while Michael Cole mocks him. (:24) The man himself calls in to liven things up and tell the world the TRUTH: he's retiring because he wants to stay in bed (and imagining Dark Journey is with him ala Sunny up there). He and RD remember all his old 'businesses' throughout the years. Also Jim has an
Amazon wishlist
, which is so 2006.
Blade sings. RD ruins things by laughing out loud. (:39)
Facts & Figures (as compiled by Erik Majorwitz)

The RD & Blade Show Sponsors: 5. Dave Meltzer, Vince Russo, LinkedIn, USA Network, Prime Time Wrestling
URLs not taken: 0.
SPEAKING OFs: 1. Finger cuffs
Dave Meltzer, not talking about: 4. Soundwave, Autobots, phonographs, Wicked Lester
F-Bombs: 5. Jim (3), Blade, Jim (4)
Phone Calls & Run Ins: 2. Jim, Hulk Hogan
Blade Time Outs: 3
RD Time Outs: 1

Blade has no haiku, but a tribute song to Jim.