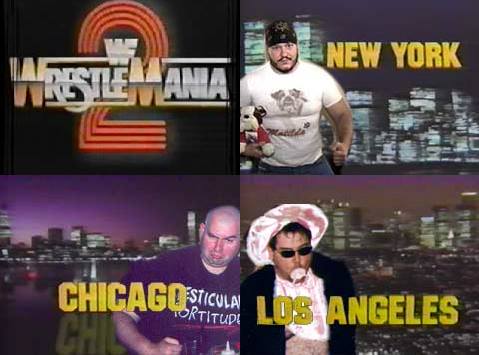 As RD put it on
his site
in turn, Blade said it best:
Very sad news to report and I'm still stunned. I just learned of the passing of one of the longtime members of the WrestleCrap family, Harry Simon. For the longtime WrestleCrap Radio listeners, Harry portrayed the role of my longtime rival on the show, the notorious bill collector, John Thomas. Harry's incredible humor cannot be understated in regards to just how much he meant to our show/listeners in the early days of WCR, as well as the written material he provided for the website. I remember us chatting a while back about how much fun we had doing the old WrestleMania 2 induction, which is where this image is taken from.
Just a great, great guy and a good pal. He will be forever missed. Rest in peace, buddy.
Harry had been one of the WC fellows for a very long time, and his range and scope which were tremendously large spread over to WCR. Although he voiced many random 'guests' on the progrem, his trademark was as the (in)famous John Thomas of Chase Meridian Mastercharge, frequently hounding Mr. Blade Brakestown for his huge credit card bills, going all the way back to
20
06
. (He was also Lee Marshall on that episode.)
A good and talented man, he will be sorely missed by all, especially on this particularly sad and tragic day. Our thoughts and condolences go out to his family and loved ones.