106 minutes
RD surrounds himself with candles. Huey has yet to update his jokes.
Roddy Piper returns from the grave to warn us about staying safe at Halloween, bless him forever more. (:04)
The Royals are in the World Series (including two Reds as RD points out). To be sure I would have preferred the Blue Jays instead but I like both teams and the Royals put a stronger showing for the Championship Series anyway. Blade hates waking up early to watch the Lions and Chiefs playing in England because the NFL desperately wants Europeans (non-Americans) to watch American (non-European) football. On an unrelated note, RD's Drag Queen with a voice like Ben Vereen advises you to draft Arian Foster. I agree. (:09)
The Pit where PB keeps Raging_Demons ???
For a change, Raging Demons does this week's shilling. (:13) To be fair he has a much better voice than I even if he is trapped in a pit like RD says he is. Perhaps he's confusing him with Dante's portrayal of Satan in the Ninth Circle of Hell...or perhaps he's confusing him with the WWCR
character
of Satan. (He'll be appearing later on in the progrem in case you were one of the two people who missed him.)
The Intestinal Fortitude didn't pay for this episode sadly, so RD shills his site and Archives more. Listen to the man, I implore you! Trust me, you won't regret your purchase. (You can regret listening to this radio progrem instead.)
According to RD Blade last wrote a Jobber Of The Week in 2003. He Big Announcements some more in response. (:17) They then argue on the availability of
Orange Slice
.
Blade did some sort of part and found some more folks to go along with him to the grocery. Sadly
Eva Savelalot
was not one of them. (:22)
The strangest thing the two didn't pick up on was that
Mr. T
also did a 1-800 Collect commercial or two - foo!, and the Pinkman, Aaron Paul, was in
one of them
. (He did quite a few commercials and famously appeared on a Barker era
The Price Is Right
before his breakout discovery by a cancer suffering high school chemistry teacher eager to break into the drug/meth business. Sadly in none of them did he call anyone bitches. He should go back and correct that now with the power of his Emmys before Vince calls him to guest host Raw.)
Anyway, Blade has some
Zapps' Voodoo Potato Chips
that he hands off to
Don to try
without even bothering to cue up his theme jingle. Sad News: when trick-or-treating with his children he does not wear his mask; although it does help fans (he has fans living nearby right?) come up to him on the street to ask him for the proper application of corn oil. Even Sadder: the chips are not malt vinegar/BBQ/rib-flavored like he thinks they are.
Danielle Harris with NOT Blade Braxton
Blade's compatriot Midnight Rose met Scream Queen
Danielle Harris
in a
very loud place
. She prefers granola much to his surprise. (:36) At that same loud place he also talked with Traci Lords who likes Lucky Charms, which currently have Hot Mask Action.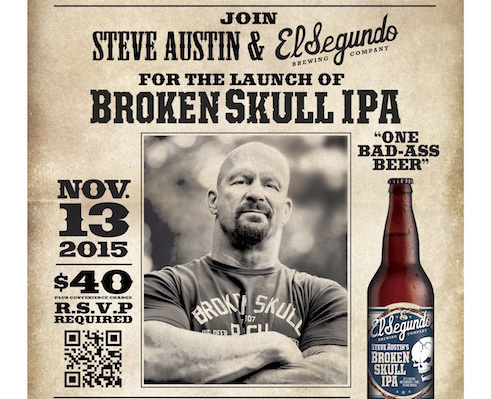 "And that's the bottom of the line,
'cause Stone Cold Austin said so!"
"Stone Cold Austin" finally has his own
beer
, Broken Skull IPA, which Blade is apparently already acquainted with based on how drunk he sounds. (:44) The flavor's description confuses Blade with its toxic-sounding ingredients and RD by how it describes itself as "polite".
Kurt Angle wants to teach while taking a year off after escaping TNA. That sounds like the setting for a sitcom. (:52)
Speaking of obscure, Curt Hawkins, currently in Global Force Wrestling, announces the '
debut
' of one
BM Punk
to the company. (:55) The real BM is not happy with the news, and in constipation flushes his frustration out on RD in a bad case of verbal diarrhea.
"Old" Rosa Mendes is pregnant. (:58) So too is "feverish" ClockTrolla champion Candice Michelle. Her current child looks rather vampiric.
Tammy/Tam needs money so she's going to sell pictures of her Mexican vacation from sunnyskype8@gmail.com. The duo overthink on what she has to offer. (:65)
As if on cue Satan pays a visit. (:70) Actually it's Stan, the Evil Troll Lord now, perhaps taking a cue from Tammy trying to change her name for some reason from the last time. Also, his Tubular Bells once again sound different. Like Jim earlier he also hasn't been paid his royalties and he desperately needs his money to pay landlord God (landgod? landdiety?) for his lease in Hell. He recounts how Tammy is again feuding with people on Twitter, though it's about her looks from her youth so I have to take her side on this one.
Also on cue on cue Mike Check calls in, also wanting his royalties. (:76) Blade's usual silliness causes RD to chuckle and break character.
When he regains his composure Mike tells them about the time he was in the Salem, Massachusetts market in WTCH "The Witch". He was Johnny Boo and together with a female DJ named Ann B Love, they did Afternoon Delight with Boo B Love. (get it?!?!?!) His ensuing music drowns the sleeping RD.
Mike: "Why does RJ never talk when I'm on here?"
Blade thinks the monetary reward from Questioning (of the week) should be tax-refundable. Of course, that's for INTERNATIONAL i.e. usually NON-AMERICAN folks who don't believe in taxes (or death for that matter) so I have no idea how that would work.
Zane U Paisley (2) wants to know what wrestling shirt he should wear for jury duty. (:90) RD often wears Blade's Dungeon Of Doom shirt, especially while exercising. When Blade is not exercising once a week he wears his ECW Francine shirt that rips off Stone Cold Austin. Then he starts chuckling too.
What's this? News about Hulk Hogan that's NOT related to his racism? (:75)
Someone's
dug up
an old
WCW contract
of
his
, and it's pretty amazing the amount of millions he received even while WCW was losing money...followed by Hogan losing his money to Linda. Blade remembers his (still on going?) creepy love for Brooke and her long legs. RD plays ZZ Top's
Sleeping Bag
as his answer.
Hell In A Cell was alright. Of course neither Co-Fruitcake talks about it much.
One Fun Sized Package:
Vince doesn't like blood.
Will the next pay per view be
sponsored by Tampax?
$28.50 plus that $19.99 The Price Is Right
Facts & Figures (as compiled by Erik Majorwitz)

Halloween

WrestleCrap Radio Sponsors: 3. WrestleCrapRadio.com, WrestleCrap.com, Drive In Movie Maniacs
URLs not taken: 3. Evasavealot.com, PleaseandThankYa.com, hornyonquaaludes.com
SPEAKING OFs: 4. Holiday jokes and wisdom, perfect guests, shocking, shocker
Dave Meltzer, not talking about: 2. Ben Vereen, Eva Savealot
Phone Calls & Run Ins: 9. WrestleCrap Fantasy Football Drag Queen, Raging_Demons, Eva Savealot, Don Mason, Danielle Harris, Traci Lords, BM Punk, Stan (formerly known as Satan). Mike Check
RD Time Outs: 2 (1 Real Quick)

Blade Burps: 1

Huey The Ghoul Laughs: 9
WrestleCrap Gongs: 1
Mike Check Radio Row:

Station/Market: WTCH The Witch (Salem, Massachusetts)
Call Sign: Johnny Boo
Partner: Ann B. Love
Show: Afternoon Delight with Boo and B. Love
Question of the Week from: Zane U Paisley (2)

I've been summoned for Jury duty. What pro wrestling shirt should I wear to court? Anxiously awaiting your response. Blade: Francine 4:69 t-shirt.
Blade Braxton's Weekly Wrestling Haiku: Vince isn't a fan of color. SummersEveSlam?

Vince doesn't like blood.
Will the next pay per view be
sponsored by Tampax?